BUNDLE DEALS AVAILABLE! GET EM BEFORE THEY'RE GONE!
NEWLY ADDED TO THE SHOP!!!!!!
Love Towers? Check em' Out!!!!
Surreal Selenite (True, Real, Selenite)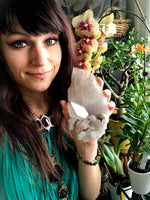 Meet Sarah
Hello friends! I am Sarah, an ultra-sensitive intuitive empath and reiki master. I am absolutely blown away by minerals & crystals...the beauty they bring to my world as well as that I've seen illuminated in others. 
It's nice to meet you and I am excited to help add some AMAZING crystals to your collection & toolbox! I select the most unique, incredible, weird, and adorable crystals I can find so that I can share them with you.
For me, crystals have opened up a HUGE whole new world for me and taken me on many undescribable  journeys. They like to be mega enhancers for meditation, energy work, manifesting, and helping you vibe where you need to be.
Whether you like them simply because they are crystals, or if you are into the metaphysical/healing side of it, all are welcomed here. 
Much love and gratitude your way!